This text course is a transcript of the webinar, Using Parent Report in the Assessment of Dual Language Learners, presented by Kerry Danahy Ebert, PhD, CCC-SLP.
Learning Objectives
After this course, readers will be able to:
Describe the evidence indicating that parent-report tools contribute to accurate speech-language assessment in children who speak one or two languages.
Identify specific parent-report tools that may be relevant for assessment across different age ranges.
Describe cultural and linguistic considerations in eliciting reports from parents who speak a minority language.
Background and Basics
I am excited to talk to you about using parent report in the assessment for dual language learners, and I should go ahead and get started. Before moving on, I want to give some background on what I'm going to discuss today, and establish some of the basic terms I will be using. The first term is Dual Language Learner (DLL). We also sometimes use words like bilingual or English Language Learner for these children. These are children who have either a systematic exposure to two are more languages, or a systematic need for two or more languages. In the United States, this is referring to children who speak a minority language at home. It does get a little tricky when I talk about some of the parent report instruments intended for toddlers because some of those children who haven't really developed the English language yet have a systematic exposure to the minority language, and we know that they will have a need for two or more languages. So, I will be using dual language learner to refer to that population of children throughout the course.
I also wanted to touch on speech versus language assessment. The majority of this course is, mostly relevant to language assessment. Most of the evidence that we have, and most of the tools that we have, are focused on language versus speech. There are couple of tools that do get into speech assessment and a lot of what I say will also be relevant to speech, but I am going to be focused on the language side of things.
In regards to age, there are a lot more tools and a lot more evidence for toddler and preschoolers, but I'm going to try to push that age range up because we do have some evidence and some tools available for school-aged kids. One of my goals is to expand a broader age range for you, and give you some information from the youngest children through school age children.
Finally, I want to touch on parent versus teacher reports. I'm going to talk directly about parent report in this course. I may touch on teacher reports because there is similar evidence with using teacher reports in speech and language assessment. However, one of the focuses here is going to be how we get at information on the development of a minority home language. Typically, teacher report do not do that so I'm going to focus on parent reports.
Overview
I am going to first discuss what parent report buys us, across any type of speech and language assessment. Then I will get specifically into what it buys us in terms of assessing dual language learners. Then I will move on to ways that we can improve the accuracy of parent report, or make it more likely to give us the information that we need in an assessment. So, I will start generally and then focus specifically on dual language learners. I will also spend time talking about specific cultural and linguistic influences that affect collecting and interpreting parent report with dual language learners.
I will review a list of specific instruments to show you what is available, what they do and what the options are if you want to integrate those into your assessments. Finally, I will give you a few take home guidelines, and look at how to construct our own questions or evaluate existing questions for selecting parent report.
Why Parent Report?
Why would we bother with parent report? There are several advantages to seeking out parent information when assessing a child for speech or language. The first reason is that parents give us a historical perspective on the child's development. If you assess a child at a static point in time, you don't have access to what happened in this child's past without the help of parents.
Parents also decrease our emphasis on impairment level assessment. Figure 1 is the World Health Organization's, International Classification and Functioning Disability and Health. It gives a framework for the different levels at which we can assess a health condition.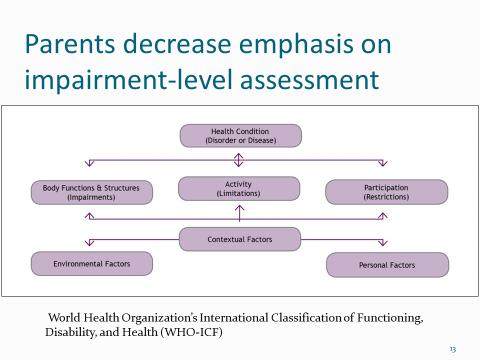 Figure 1. WHO-ICF.
Speech and language disorders fit into this framework. When we rely on standardized tests, we are generally looking at the impairment level, the body functions and structures. Our assessments map onto that. But if we want information about activity levels, the individual's ability to participate, and the environmental and personal factors that influence the different levels of assessment, we are limited in our ability to gather those levels of information, if we are only doing a face to face test. Parents can be tremendously helpful in giving us this complete picture that maps onto the best practice as advocated by the WHO.
Another advantage is that parent perspective can help us reduce our tendency to over-emphasize test results. Tests are an important component of our assessments, but we know that, we have a tendency to rely on them a little too heavily, particularly with the dual language learner population where we are limited in how many tests are really valid for that population.
Additionally, parents can help us assess skills that are not particularly suited to tests. For example, with social language, or pragmatic language, we have tests that are intended to get at those social language skills. But social language is inherently, something that is happening outside of an artificial test taking situation. Therefore, it becomes difficult to develop valid tests for those skills, specifically. Again, parents may have insight into those types of everyday language challenges that we may have trouble assessing with our other tools.
Is Parent Report Accurate?
These advantages are really moot if parents aren't giving us accurate information. Fortunately, there is evidence to show that when parents are asked to report on their children's language skills, they provide accurate information. The best evidence is with toddlers and the emergence of vocabulary words. Most of the research is from the development of the MacArthur-Bates Inventories that will be discussed in further detail later. There have been a number of groups over the years who have looked at that instrument, and looked at how well parents report vocabulary skills in relation to where the child's vocabulary skills are when assessed directly. They found that there is a pretty close correspondence between the parent report and the direct assessment of vocabulary (Dale, Bates, Reznick, & Morisset, 1989; Marchman & Martinez-Sussmann, 2002).
We can also go a step farther with this evidence in that parent report of vocabulary emergence, is also predictive of which children will continue to develop language versus those who will fall behind. Therefore, parent report can help us identify early language delay (Feldman et al., 2005; Heilmann et al., 2005; Sachse & Von Suchodoletz, 2008).
We also want to know about older children. We have less evidence for school-aged children, but there is still some. A study by Norbury and colleagues looked at the Children's Communication Checklist and found that the tool did accurately pick out which children had communication disorders and those who did not (Norbury, Nash, Baird, & Bishop, 2004). They also found that the tool differentiated children who had more social communication problems versus structural language problems (i.e., problems with grammar or vocabulary). Again, there is limited evidence with the school age population, but there's still some evidence that a parent report tool can give us accurate information.
I also conducted a study looking at school-age children, with and without language disorders. I included single language and dual language children in that group and we found significant relationships between a parent report tool and standardized testing, even within the school-age population (Ebert, 2017). I haven't gotten into the evidence that's specific to the dual language learner population, this is just the evidence for parent report in general.
Using Parent Report for Dual Language Learners
Advantages Specific to DLLs
There are some specific advantages of this population. Perhaps the most obvious is that parent report is one of our chief tools for getting information on the home language. Remember, these are children who speak another language at home and we know that this is frequently a challenge. It's very hard for SLPs to directly assess language skills in home languages other than English. But we also know that if we are looking at children who speak two languages, a complete assessment looks at both of them. So parent report is one of the best ways to get at home language skills and home language development.
It is also a crucial piece for understanding the child's cultural context which is the foundation for quality assessment of DLL (DeLamo White & Jin, 2011). I encourage you to look up this article by DeLamo, White and Jin because it is a good resource in terms of integrating that cultural context into your assessment. Again, the parent report is the main reason we are going to get this.
Parent Report Helps Identify Language Disorders in DLLs
Here is the evidence that is specific to the identification of language disorders in dual language learners. There is some evidence that parent report tools can help identify children who have language disorders. However, it is limited to some populations, such as Spanish-speaking toddlers (Guiberson, Rodriguez, & Dale, 2011). These are children who will develop into dual language learners, but at the time of the study they were predominantly Spanish speaking. For example, with two year olds there were actually several different parent report tools that were able to accurately identify children with language delays in that population.
There is a series of studies conducted in Canada that looked at four to seven year old children with a variety of home language backgrounds. Again, parent report tools could accurately identify children with language disorders (Paradis, Emmerzael, & Sorenson Duncan, 2010; Paradis, Schneider, & Sorenson Duncan, 2013).
Another study from about 20 years ago, which was one of the first studies to look at parent report, found that within five to seven year old Spanish-English speakers, parent report was one of the most accurate ways to identify which children had language disorders. Again, there is good evidence for the accuracy and utility of parent report within the dual language learner population.
Parent Report Fills a Unique Purpose for DLLs
In regards to advantages of parent reports with DLLs, there is a unique purpose for using them with this population. Thus far, I have been focused exclusively on using parent report to determine the child's language ability, their language develop, or whether or not they have a language disorder. But with dual language learners, we can also use parent report to tell us about input and output patterns for the child. Meaning, which language is the child using, when are they using it, and with whom. What percentage of the time does the child spend listening to or speaking the minority language versus English? What kind of purposes does the child needs to be able to use the home language to communicate? For what purposes does the child need to use English to communicate? We might want to determine what partners the child is using the different languages with.
Again, this really forms the foundation for what we're going to expect in our assessments when looking at language. At the most basic level, looking at input and output patterns will help tell us what language we expect the child to be dominant in. But, we can get a much more nuanced picture with these parent report tools, not to only show that the child is dominant in the minority language versus English, but to get an in depth look at the purpose for the minority language versus English. We can develop an expectation for the types of concepts they might know in that language. For example, the child might need to communicate concepts in the home in the minority home language and they might need to communicate concepts at school in English. So, input and output patterns are crucial pieces of information that we need for DLLs.
There is some good evidence to show that parent report is accurate for this purpose too. A few studies have looked at parent report of input and output patterns versus the child's relative proficiency. For example, if you test the child in both languages, do they do better at English or do they do better in the home language? Does that correspond to what the parent says they hear or speak? Generally, the answer is yes. A couple of the studies also included teacher report which can also be helpful in determining input and output patterns for a child.
Improving the Accuracy of Parent Reports
General Influences on the Accuracy of Parent Report
I want to discuss some techniques, as well as what we can do to make parent reports even more accurate. The bubbles on this slide talk, mention a few different, general influences, on the accuracy of parent report. These influences come from the literature looking at all children, not specifically DLLs. Most of these influences apply to dual language learners, although in some instances there are tradeoffs.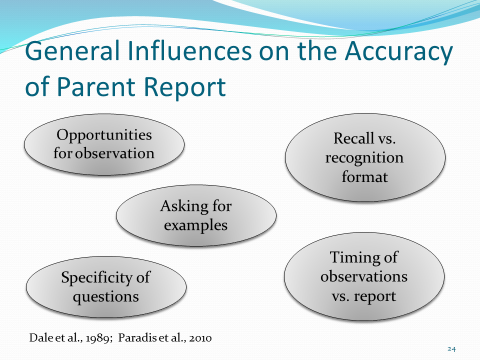 Figure 2. General influences on the accuracy of parent report.
Opportunities for observation. The first influence is opportunities for observation. This means that we should ask parents about things that they have the opportunity to see. For example, an obvious application, is if we are working with a parent that is monolingual in a minority language and they speak it exclusively at home, asking that parent about the child's English skills is probably not going to be very productive, because the parent does not have the opportunity to see them speaking English.
Asking for examples. This lets us know that the parent understood the question the way we wanted them to. Remember, some of these guidelines come out of the development of The Macarthur-Bates which is primarily a vocabulary reporting tool. One of the recommendations is that we don't just ask parents, "Does your child use any animal names?" But rather, "Does your child use any animal names? Which ones do they use?" We are asking them for specific examples so that we know they've understood the question. In general, asking questions that are more specific provides more specific answers to help us understand the child's specific language behaviors.
Specificity of questions. This is an area where there can be a trade off, and I will explain that later when I get into more details about dual language learners. But we have to carefully craft what we specifically ask about. The questions should be relevant to the language and the culture that's applicable for the child.