This text is a transcript of the webinar, "Skilled Nursing Facility State Survey Process – Providing Person-Centered Care," presented by Renee Kinder, MS, CCC-SLP, RAC-CT.
This is an area that is new and impacting all of us who practice in skilled nursing facilities. There are some very positive changes in how we approach care and the overall culture that we see in long-term care and skilled nursing facilities.
Learning Outcomes
After this course, readers will be able to:
Describe the Phase II Requirements of Participation that require the new state survey process, and their relation to the Affordable Care Act (ACA) and the Improving Medicare Post-Acute Care Transformation (IMPACT) Act.
Explain the importance and methods for implementation of person-centered care and person-directed care planning.
Define the critical element pathways which are used by surveyors to measure care and the role of rehab professionals in the pathways.
Introduction
I began, and have continued my career in skilled nursing facilities, and can say that over the past 13 years there have been some really positive changes in the culture in long-term care facilities. But now we are actually seeing the Center for Medicare and Medicaid Services (CMS) change regulations to require those positive changes in culture and those positive changes that guide us toward more person-directed and person-centered care.
There are three key handouts that I will be referring to in this course. The first is Activities of Daily Living, the second is on dementia care and the third relates to the dining environment. Have those handouts readily available because I will be discussing those critical element pathways, and more specifically what is our role as the SLP for ensuring that the facility is as successful as possible during the survey process.
CMS Reform of Requirements for Long Term Care Facilities
Why is there so much interest and excitement around the fact that CMS has decided to change the way they conduct state surveys? For those of you who are not practicing in a skilled nursing facility, I'll give some background. All facilities nationwide will have some sort of state survey throughout the year on an annual basis. The surveyors are specific to the state. Essentially, they come into the building and assess the care being provided, assess if everyone is upholding regulatory standards to the highest level of care, and identify any at-risk areas that the building needs to improve.
Historically, therapy has not been a huge component of the state survey process. We are now. As far as revisions, go, this is the largest change that we've seen for requirements for long-term care facilities since 1991. The reason that it was implemented was to improve the overall quality of healthcare. We hear this word "quality" used a lot in healthcare. We hear "quality reform," and "quality outcome." We hear the move from volume-based care to quality-based care. Quality is a pretty big buzzword in the industry right now across the entire post-acute care (PAC) spectrum, with long-term care facilities being one element of the post-acute care spectrum. The PAC spectrum refers to long-term care facilities, home health agencies, outpatient centers, any entity in the healthcare realm that someone may access after being in an acute-care hospital for a period of time. The change that I'm discussing in this course is specific to long-term care, skilled nursing facilities (i.e., nursing homes). These regulations, due to the fact that they're tied to the IMPACT Act, are going to influence that entire spectrum. If you're working in home health, an outpatient center, or skilled nursing facility be aware that this is going to be a broader scope after all of these phases are implemented.
Quality is the number one piece. It's going to be achieved through federal programs to make sure that we're providing the highest level of patient care and safety. There are also elements within the new survey process to reduce procedural burdens. If you are practicing in a long-term care facility, you know that everybody who begins in that profession is there because they have a passion to care for others. Much of the regulation is being changed so that we can have a greater focus on caring for the geriatric population and to not be overly burdened with a multitude of regulations and processes that need to be completed.
The regulatory reform tied to the state survey implements elements of the Affordable Care Act and the IMPACT Act, and includes the following:
Quality Assurance and Performance Improvement (QAPI) - Most of us have heard about QA, quality assurance. Who's your quality assurance director? Who's on your quality assurance team? This isn't just specific to the healthcare industry. Most large entities and groups now have a QA division or a QA team. What's interesting about QAPI is that it takes it to the next level. Quality assurance and performance improvement mean that we're not just striving to deliver quality, but we're striving to also assess the quality on the backend. For example, we want to implement a quality initiative and our facility wants to implement a home-like dining environment and a higher level of quality during meals to increase intake to reduce the risk for weight loss and to reduce skin breakdown with the use of wheelchairs by moving everybody to a natural dining chair. The quality assurance piece would be assessing what the specific needs are. Let's say that we have a high level of significant weight losses with people having greater than 5% weight loss in a 30-day look back. We also have a higher level of individuals that are at risk for skin breakdown due to the amount of time per day in a wheelchair. They want to use a natural dining environment. All of that would be the quality assurance assessment piece. Then the performance improvement would be measuring that on a consistent basis on the backend. Have we had a reduction in the number of wounds? Have we had a reduction in the number of folks that are presenting with a significant weight loss? Things of that nature. Again, QAPI is such a big deal because it takes things to the next level of care.
There are also regulations around reporting suspicions of crime and what the facility's responsibility is for that area.
Increasing discharge planning requirements
Staff training requirements
I want to address #3, "increasing discharge planning requirements." Let's say, an individual comes into the skilled nursing facility. Their status post, new stroke, or new traumatic brain injury, or malcognitive impairment or had a fall in the home environment and had a hip fracture. When does our discharge plan for that patient begin? It should begin day one. When I started in long-term care facilities, we began discharge planning three days before the individual went home or the last week of the stay. That culture has really changed to ensure not just a discharge, but a safe and adequate and appropriate discharge. It ensures that we're having all of the conversations necessary with the other providers across the spectrum because these regulations are for the whole PAC spectrum. We're no longer thinking about just sending an individual from the SNF straight home. It may be, "This is your prior level of function. This is where you are at baseline." On day one, we need to talk about where does the patient need to be to transition to home health? Then after a period of home health, the home health SLP is thinking about what they need to do to transition the patient to outpatient? It's no longer just about discharge from care. It's about discharge to the least restrictive environment in the safest way.
For that reason, there is a new regulation around discharge planning that includes a 48-hour person-centered care plan meeting to discuss what this individual needs to be successful in the home environment, and also to be safe and not end up back in the hospital.
Another regulation is discharging to the next level of care in the safest way. We want to engage that individual in the process and think about factors such as, are we doing a home evaluation? For example, Mr. Jones looks superb in spontaneous conversation with me, or he looks great with a regular thin diet in the dining room. But what happens when he goes home and his grandchildren come for dinner and there are distractions in the environment? Or there's an abundance of background noise? How does that impact his success? Thinking about all of the big picture ideas is really ingrained in these regulations, rather than just thinking about the here and now in the silo of my SLP treatment within a skilled nursing facility.
Just a side note that I will be using interchangeably the terms "beneficiary" (a Medicare term that refers to those who can access the Medicare benefit), "person" and "patient". A lot of the Medicare regulation still uses "patient" but we're seeing a move to using more of the word "person." Just be aware that those words, at this point, are used pretty interchangeably.
In regards to staff trainings, Medicare has made many changes to those requirements. It's no longer just, "watch me and listen to me." They're moving to more of a watch me, follow me, show me model, and looking for returned demonstration. When surveyors come into the building, they are actually asking questions like, "What did you do to actually demonstrate clinical competence? How did you return demonstrate what you were taught?" Here's an example. Let's say that we have an individual that, at the end of care, still needed a couple of swallow strategies in order to be safe and reduce their risk for aspiration. In our present training model, is the CNA observing us implement the technique? Are they observing the patient? Are we explaining the technique? That's the first element of training. That's the "watch me." The "follow me" would be having them follow along with us, and show that they understand the technique. Then that highest level of learning and demonstrating competence is the "show me." Watch me, follow me, show me. The surveyors are looking for the "show me." They're looking for full demonstration of clinical competence in areas that we turn over to other staff members. Be aware of that. We're hearing examples of surveyors looking at speech pathology, and it's not just speech, it's speech, PT and OT. They are looking at clinical discharge summaries and the recommendations we make at the end of care, and then wanting more information on how we provided that training to the staff.
Three Phase Process
As I said at the beginning, this is not something that can be done overnight. Medicare has been very strategic about how they're rolling out this regulation. It is a three phase process. The phase that we are talking about in this course was actually implemented in November of 2017. Due to the multitude of changes to this regulation, a lot of folks weren't really sure it was going to happen. But, it happened. Effective November 28th of 2017, facilities had surveyors at the door implementing the new process. It did happen and it is in effect. I have been hearing that it is a positive process, it's engaging, and that therapy is being pulled in more for conversation. If you have not experienced it yet in your facility, be aware that it's coming your way. Then there are more regulations that will be implemented.
Why is CMS Changing the LTC Survey Process?
Why, after so many years, would Medicare say, "We need to change the state survey process." One reason was that across the industry, there were two different survey processes occurring. There was the traditional survey and the QIS survey. Surveyors identified that there were benefits and opportunities across both of those that were positive so they wanted to merge them. How can we take the best of both worlds and implement them into a single process that's not only the most effective from the regulatory standpoint, but most effective from the person-centered, person-directed, person-engaged standpoint?
CMS also set out to build these survey pathways and to automatize a lot of the process. Historically, surveyors would come into the facility and they had a designated location where they worked. They had all of these medical records and charts that they sifted through. Now there are actually items that they are looking through before they enter the building. They also have a significant amount of computerized-based clinical pathways. The critical element pathways that are in the course handouts - the ADL, dementia and the dining – are automated forms for the surveyors on their computers. They can quickly go through the pathways. They can identify areas of risk and opportunity. It has sections included at the end where they may tie in tags. Tags are areas that the building would actually be cited for as needing improvement or that might see a deficiency. Not only are they looking at medical records before they step into the building to determine where they need to focus, but the systems that they use once they get into the building are also now automatized and have very clear crosswalks and walkthroughs to identify where the needs for improvement are.
Implementation Grid
Figure 1 shows the implementation dates and what changes have occurred.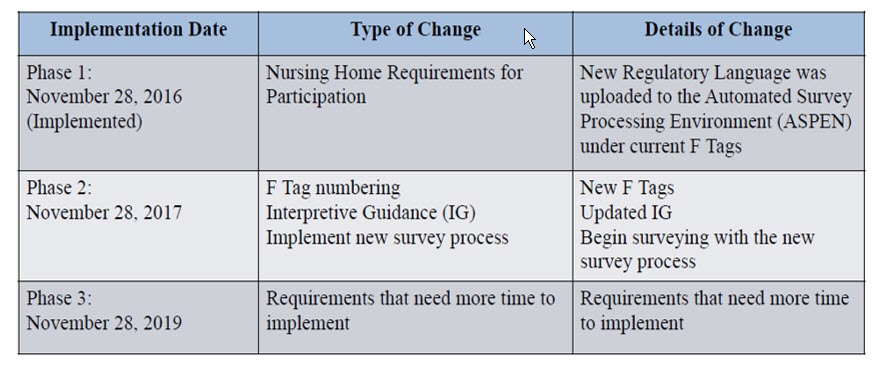 Figure 1. Implementation grid.
Phase 1 was in November 2016. It increased the nursing home requirements for participation regulatory language. It's Phase 2 that has been so significant. The tags that were mentioned earlier that are on the critical element pathways have actually been reorganized and renumbered. We are also beginning the new survey process. Phase 3 will have more requirements. I think there is some "wait and see" to know what those requirements will look like. Also, remember that there are new regulations that will likely impact the post-acute care, skilled nursing facility industry in the fall of 2019 that are related to PPS reform.
We also have a RUG-IV system. Currently, care is reimbursed based on the volume of service that we provided. But, again, all of these regulations are moving towards more of a quality aspect. There is a potential change to the patient-driven pain model, which will occur in the fall of 2019. This means that the reimbursement system is actually directly tied to the patient characteristic and the patient's clinical categories rather than how much care we provide. Again, there are a lot of really positive things occurring right now in the industry.
Phase 2 Requirement Inclusions
There isn't enough time in this course to review all of the Phase 2 requirement inclusions. I want to focus more on the person-centeredness and what we, as the SLP, can do to be successful. But, big picture, these are all of the areas that are included in the phase two requirements:
Behavioral Health Services
Quality Assurance and Performance Improvements (QAPI Plan Only)
Infection Control and Antibiotic Stewardship – pneumonia vaccines
Physical Environment – smoking policies
Resident Rights and Facility Responsibilities – Required Contact Information
Freedom from Abuse, Neglect, and Exploitation – 1150B
Admission, Transfer, and Discharge Rights – Transfer/Discharge Documentation
Comprehensive Person-Centered Care Planning
Pharmacy Services – psychotropic medications
Dental Services – replacing dentures
Administration – Facility Assessment
Person-Centered Care
The definition that CMS is using for person-centered care is to focus on the resident as the locus of control and support that individual in making their own choices and having control over their daily life. Think about current treatment plans, the conversations that we have at the start of care, and the goals that we create. Many of our goals within our EMR have builders attached. It may be, "Patient will follow a one-step command with 50% accuracy and a 20% verbal cue." But, what if we changed it to ask the patient what they want to be able to do? "Mr. Jones will demonstrate ability to X." Then tie in something that's important to him. Maybe Mr. Jones really enjoys preparing meals for his family on the weekend or doing some other type of task back in the home environment with a level of assist. We could build our goals, such as "Mr. Jones desires the ability to accomplish X with this level of success." This type of goal really engages that individual as their locus of control.