https://www.speechpathology.com/slp-ceus/course/mobile-device-ipad-174-applications-6706

This course is part of the 2014 Nancy McKinley Lecture Series. Take your iPad® use to the next level, incorporate your evidence-based practices, and secure the buy-in from your families, colleagues, and administrators. This program will frame mobile device use around critical concepts of Universal Design for Learning (UDL). A handful of must-have Apps that maximize UDL when working with early childhood populations and their families will be previewed.
Course created on October 10, 2014
Preview Exam
On Demand
Course Type: Video
CEUs/Hours Offered: AG Bell - LSLS/1.0 Domain 3, Domain 7, CE-SPC-15-401; ASHA/0.1 Intermediate, Professional; Kansas LTS-S1370/1.0; SAC/1.0

Learning Outcomes
After this course, participants will be able to define principles of Universal Design for Learning.
After this course, participants will be able to describe several new Apps that incorporate Universal Design for Learning into providing speech and language intervention to early childhood populations.
After this course, participants will be able to develop a personalized quality-control tool to "test drive" new Apps in consideration of professional use.
After this course, participants will be able to use professional tools on mobile devices to complete compliance activities and collaborate with colleagues and families.
Agenda
| | |
| --- | --- |
| 0-5 Minutes | Introduction and overview |
| 5-10 Minutes | Consumption vs. production with the iPad |
| 10-20 Minutes | Understanding Universal Design for Learning basics (UDL) |
| 20-30 Minutes | Quality control tool for making iPad decisions |
| 30-50 Minutes | App showcase for early childhood skills |
| 50-55 Minutes | Using mobile devices to collaborate with families |
| 55-60 Minutes | Conclusion; Q&A |
Reviews
2030 Reviews
Presented By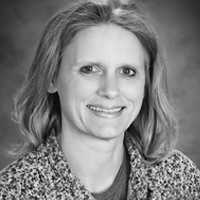 Angela Sterling-Orth
, MS
, CCC-SLP
Ms. Sterling-Orth is a Clinical Assistant Professor and Director of Clinical Programs and Services for the UW—Eau Claire Department of Communication Sciences and Disorders where she has been on the faculty since 2002. She completed her baccalaureate degree and master's degrees in Communication Disorders at UW-Eau Claire. Before joining the department, she worked as a public school speech-language pathologist in Wisconsin. Following her experience in the public schools, Angie worked for Thinking Publications in Eau Claire, editing and co-authoring assessment and intervention resources for use with children with communication disorders. She has particular interest in developmental language disorders, fluency and stuttering, and using technology to elevate professional practice.
---
More
Presenter Disclosure: Financial: Angela Sterling-Orth was paid an honorarium for the presentation by SpeechPathology.com. Non-financial: Angela has a professional bias about authentic, and quality-control methods and techniques for utilizing mobile device technology for professional purposes

Sponsor Disclosure: This course is presented in cooperation with University of Wisconsin - Eau Claire, which provided in-kind support.

Content Disclosure: This learning event does not focus exclusively on any specific product or service.


Course participation information
To ensure you are ready to participate, please complete our short Test Drive to prepare your computer to view the course.
Login and logout times will be recorded and documented.
Passing an online exam will be required to earn continuing education credit, where applicable.
Live Webinars allow presenter and participant interaction. The exam and course evaluation for these courses must be completed within 7 days of the event.
On-demand courses include texts, video and audio recordings of live webinars, and multimedia formats. The exam and course evaluation for on-demand courses must be completed within 30 days of course registration.
To participate in the course, complete the exam, and earn continuing education credit (where applicable), you must be a SpeechPathology.com member.
SpeechPathology.com is committed to providing equal opportunities in accordance with all applicable laws. If you are in need of a disability-related accommodation, please contact customerservice@speechpathology.com. We will review your request and respond in a timely manner. Please note that we will require a minimum of 2 weeks to provide a reasonable accommodation for your request.
Visit our Contact us page or give us a call if you have questions.
---
AG Bell - Listening and Spoken Language Credential
This course is offered for 1 hour(s) of CE Credit from the AG Bell Academy for Listening and Spoken Language. For an explanation of content areas, please view pdf listing all 9 "domains."
---
American Speech-Language-Hearing Assn.
This course is offered for 0.1 ASHA CEUs (Intermediate level, Professional Area)
---
Kansas Dept for Aging and Disability Services
Approved for 1 continuing education clock hour(s) for Kansas licensed Speech Pathologists by the Kansas Department for Aging and Disability Services. Long-Term Sponsorship number: LTS-S1370.

California Speech-Language Pathology and Audiology Board: SpeechPathology.com is approved by the California Speech-Language Pathology and Audiology Board as a Continuing Professional Development Provider, approval number PDP 268. This course may meet the requirements for 1 hours of continuing education credit for SLPs as required by the California Speech-Language Pathology and Audiology and Hearing Aid Dispensers Board. The responsibility for determining whether or not this specific course counts toward an individual's requirements for license renewal is up to the individual. Please refer to the CA state board rules regarding allowable topics and self-study limits: http://www.speechandhearing.ca.gov/licensees/ce_req.shtml. Live webinars on SpeechPathology.com do not count as self-study courses toward California professional development requirements.
---
Speech-Language and Audiology Canada
Clinically certified members of Speech-Language and Audiology Canada (SAC) can accumulate continuing education equivalents (CEEs) for their participation with SpeechPathology.com. One hour of coursework equals 1 CEE. All SAC members are encouraged to participate in on-going education.
---