https://www.speechpathology.com/slp-ceus/course/human-trafficking-101-for-allied-8805

The goal of this course is to educate providers regarding Human Trafficking. The course will, along with providing the definition of Human Trafficking and explaining the various aspects of the definition, give providers tools in the recognition and care of potential victims of Human Trafficking.
This course was designed to meet state requirements for SLPs licensed in Michigan and includes information relevant to other states. This course does not meet the requirement for TX - TX professionals should refer to the free course provided by TX Health and Human Services that can be accessed on the Texas Health and Human Services Website.
Course created on February 18, 2019
Preview Exam
On Demand
Course Type: Video
CEUs/Hours Offered: ASHA/0.1 Introductory, Related; IACET/0.1; Kansas LTS-S1370/1.0; SAC/1.0

Learning Outcomes
Identify the key components and requirements that distinguish a victim of human trafficking
List 3 red flags associated with human trafficking
Identify the principles of Trauma Informed Care
State 3 complaints associated with human trafficking victims
List 3 barriers that prevent victim disclosure
State 2 appropriate responses when disclosure is offered
Identify 2 resources for potential victims
Agenda
| | |
| --- | --- |
| 0-5 Minutes | Introduction |
| 5-15 Minutes | Trafficking Laws and Definitions |
| 15-30 Minutes | Statistics and Characteristics of the Population |
| 30-40 Minutes | Types of Trafficking |
| 40-50 Minutes | "Red Flags" |
| 50-60 Minutes | Trauma Informed Care and Victim Resources |
Reviews
2190 Reviews
Presented By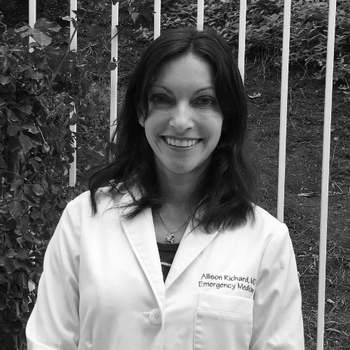 Allison Santi

MD
Allison Santi is an Emergency Physician who works at Los Robles Hospital and Medical Center in Thousand Oaks California. Originally from Michigan, she attended medical school at Wayne State University in Detroit then came to California for residency in Emergency Medicine at UCLA/Olive View in Los Angeles. Following graduation, she worked at Los Angeles County in the Emergency Department as a Clinical Assistant Professor of Emergency Medicine, Keck school of Medicine at USC. During this time, she worked with Community Partners International providing medical training and program implementation and development for Internally Displaced Persons from Myanmar, along the Thailand border. As the Assistant Director of the International Medicine group, she also traveled to Ghana and Chile, participating in medical conferences.
Starting in 2015 she began a collaboration with the Ventura Coalition for Human Trafficking, Forever Found, CAST Los Angeles, and Interface Child and Family services and has been providing education regarding Human Trafficking primarily to health care providers including physicians, nurses, midlevel providers and first responders throughout Los Angeles and Ventura counties.
---
More
Presenter Disclosure: Financial: Allison Santi's honorarium was donated by SpeechPathology.com's parent company to HEALTrafficking, a nonprofit anti-trafficking organization, at Allison's request. Nonfinancial: Allison is a member of the HEALtrafficking speakers bureau. She collaborates with the Ventura Coalition for Human Trafficking, Forever Found, CAST Los Angeles, and Interface Child and Family services to provide Human Trafficking education to healthcare providers.

Content Disclosure: This learning event does not focus exclusively on any specific product or service.


Course participation information
To ensure you are ready to participate, please complete our short Test Drive to prepare your computer to view the course.
Login and logout times will be recorded and documented.
Passing an online exam and completing a course evaluation will be required to earn continuing education credit.
Live Webinars allow presenter and participant interaction. The exam and course evaluation for these courses must be completed within 7 days of the event.
On-demand courses include texts, video and audio recordings of live webinars, and multimedia formats. The exam and course evaluation for on-demand courses must be completed within 30 days of course registration.
To participate in the course, complete the exam and course evaluation, and earn continuing education credit, you must be a SpeechPathology.com member. Participants must complete the entire course; partial credit is not allowed.
SpeechPathology.com is committed to ensuring accessibility to the widest possible audience. We are continually improving the user experience for everyone. If you have questions, requests, or would like to report an accessibility-related issue, please email accessibility@continued.com. We will review your request and respond in a timely manner.
Visit our Contact us page or give us a call if you have questions.
---
American Speech-Language-Hearing Assn.
Introductory Level
0.1 ASHA CEUs
---
International Association for Continuing Education and Training
Continued, LLC, DBA SpeechPathology.com, is accredited by the International Association for Continuing Education and Training (IACET). Continued complies with the ANSI/IACET Standard, which is recognized internationally as a standard of excellence in instructional practices. As a result of this accreditation, Continued is authorized to issue the IACET CEU. continued, LLC, is authorized by IACET to offer 0.1 CEUs for this program.
---
Kansas Dept for Aging and Disability Services
Approved for 1 continuing education clock hour(s) for Kansas licensed Speech Pathologists by the Kansas Department for Aging and Disability Services. Long-Term Sponsorship number: LTS-S1370.

California Speech-Language Pathology and Audiology Board: SpeechPathology.com is approved by the California Speech-Language Pathology and Audiology Board as a Continuing Professional Development Provider, approval number PDP 268. This course may meet the requirements for 1 hours of continuing education credit for SLPs as required by the California Speech-Language Pathology and Audiology and Hearing Aid Dispensers Board. The responsibility for determining whether or not this specific course counts toward an individual's requirements for license renewal is up to the individual. Please refer to the CA state board rules regarding allowable topics and self-study limits: http://www.speechandhearing.ca.gov/licensees/ce_req.shtml. Live webinars on SpeechPathology.com do not count as self-study courses toward California professional development requirements.
---
Speech-Language and Audiology Canada
Clinically certified members of Speech-Language and Audiology Canada (SAC) can accumulate continuing education equivalents (CEEs) for their participation with SpeechPathology.com. One hour of coursework equals 1 CEE. All SAC members are encouraged to participate in on-going education.
---