TherapyTravelers
See TherapyTravelers Job Listings
Contact Information
TherapyTravelers
Long Beach, CA
US
Phone: 1-888-223-8002
Website:
therapytravelers.com
---
TherapyTravelers
Do you desire to work for a company that values Integrity, Being Exceptional, Teamwork, and Appreciation for great work?
Do you want to make great money doing work you love?
Are you interested in taking part of incredible benefits? How about working for a compelling brand?
"Do you want to travel and see the world?"
...If you answered YES to any of these questions, check us out! http://www.therapytravelers.com - #workhardbekind
TherapyTravelers is a staffing firm that places quality Speech Language Pathologists, Speech Language Pathology Assistants, School Nurses, Social Workers, BCBAs, Special Education Teachers, School Psychologists, Occupational Therapists, Occupational Therapy Assistants, Physical Therapists, Physical Therapy Assistants, and many more in school districts all over the United States.
Our Mission Statement: Is to empower, attract, and retain the finest therapists and psychologists.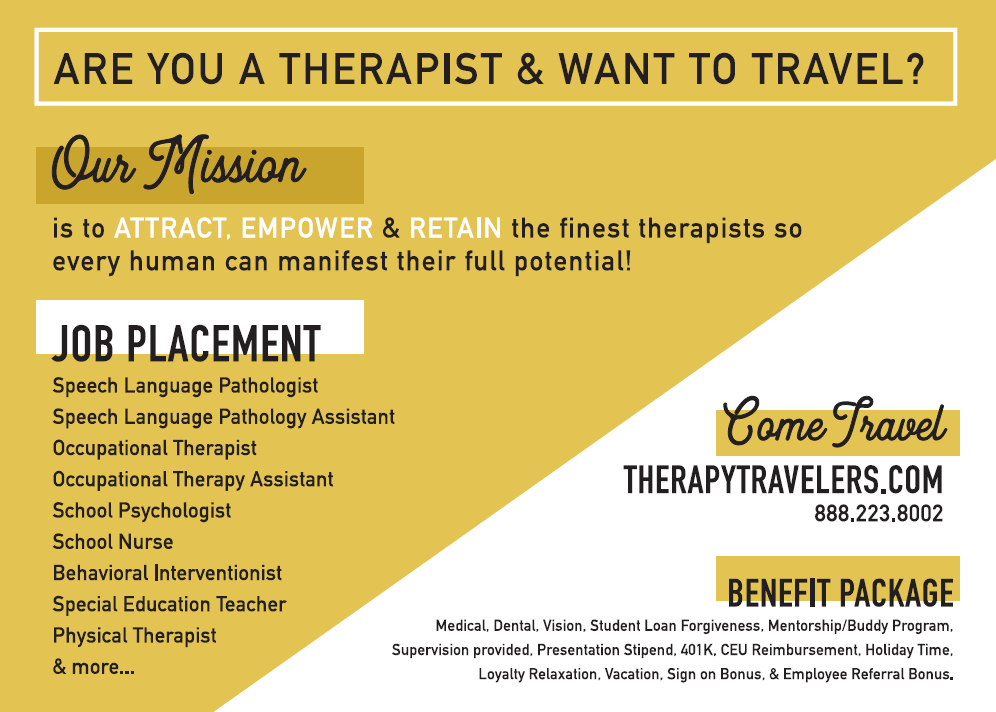 ---
Read More