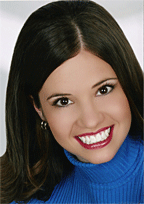 Beck:
Hi Kelli. It is a joy to speak with you. If you don't mind, may I ask your age?
Talicska:
I don't mind answering that! I'm 25 years old.
Beck:
Have you completed your graduate studies in Speech-Language Pathology?
Talicska:
Yes. I completed my undergraduate degree in Speech-Language Pathology and Audiology at Western Michigan University in 2001, and I completed my master's in Speech-Language Pathology in the spring of 2004, also at Western Michigan University. In addition, I have my elementary provisional certification, as my minor was in education.
Beck:
Oh my, so it sounds like you're just about ready to embark on your CFY?
Talicska:
Yes, well... I graduated in April, 2004, and I won Miss Michigan in June of 2004, so I haven't had the time to start on my CFY as of yet. I'll complete my year of service as Miss Michigan in June of 2005, and then I'll be ready to start my clinical fellowship.
Beck:
How did you get interested in Speech-Language Pathology?
Talicska:
Speech Pathology was the best decision I never made! When I was in high school, I loved science and mathematics, but I'm also a singer and I love the human voice...I couldn't imagine combining all of those things into a career. But by chance, before attending college, I toured with the Blue Lake Fine Arts Camp International Choir, and our piano player was an SLP student at Western Michigan University. She told me a little about speech-language pathology, and that was probably the first time I really thought about it. When I enrolled at Western Michigan University that next fall, one of the girls in my residence hall was also a speech-language pathology major. I kept running into people involved with SLP, and so I decided to take "Introduction to Communication Disorders." Within the first five minutes of the lecture, I was hooked. I realized that speech-language pathology combined components of medicine, education, counseling, rehab, voice and people skills, and I thought it was perfect for me. So, again, I sort of fell into it by default, but it really was the best decision I never made! I love it!
Beck:
What area within SLP do you imagine you would like to practice in?
Talicska:
That's a tough one. I really love working with children, but then again, I have enjoyed every area of speech-language pathology that I've worked in, both clinically and in the schools. An area that really interests me is dysphagia and the research and clinical techniques associated with swallowing disorders.
Beck:
Do you have specific people that you admire, either in your role as Miss Michigan, or as an SLP?
Talicska:
Heather Whitestone is someone I really admire. She won Miss America in 1995, and she has successfully managed her hearing loss and become a role model and an inspiration for so many. She has made countless people aware of hearing, hearing loss, hearing aids and cochlear implants....she's just been incredible.
Beck:
I agree. Heather is simply amazing. A wonderful, talented and compassionate person. I had the honor of interviewing her previously, and we'll hyperlink to those interviews for the interested readers.
Interview with Heather Whitestone McCallum (HWM), Miss America 1995, Cochlear Implant Candidate
Interview with Heather Whitestone McCallum (HWM), Miss America 1995
Talicska:
Another person who inspires me is Kaye Lani Rae Rafko Wilson. She was Miss America in 1998, also from Michigan. I've have had the opportunity to get to know her, and she is a truly inspirational and passionate woman. She's very active in her community and also works tirelessly as a nurse for Hospice. She's really led a life of purpose and in doing so, has brought much attention to the nursing field. I hope to mirror her efforts in the fields of speech-language pathology and audiology.
Beck:
Can you tell me please...as Miss Michigan, what have you accomplished?
Talicska:
Like any person wanting to make a difference, I always feel like there's more, more, more I need to do. I was talking with my mom the other day about how I wish I could be in more than one place at a time. And one of the nice things my mom said is that she imagined I would never put the cause in front of the people. In other words, the people, the individuals come first for me, and the "cause" is second. So I try to serve the citizens, and to help the individuals first-- that's my primary goal. I've done that by educating many social and non-profit groups, the Governor of Michigan, and major well-known hospitals on the professions of speech-language pathology and audiology and services we provide. I've been the master of ceremonies at many local pageants and local events. I've started projects in which children write and publish works of literacy. I'm working now with major Michigan car dealerships to help them provide better services for their customers with communication disorders, and I can imagine spreading that to banks and grocery stores and other places of business too. I also am a spokesperson for "Right Decisions, Right Now," and I serve on the Executive Board of the Michigan Speech-Language-Hearing Associaiton. I have a pretty busy schedule of upcoming events as well. Basically, wherever I go and whatever I do, I advocate for the communicative and social health of all citizens. As Miss Michigan, my goals are to: raise awareness of linguistic human rights, secure funding for research and the development of evidence-based practices, promote rights of the caretaker in special education services, support efforts for early identification and intervention of communication disorders, recruit students into rehabilitative professions as collaborative partners, and continue to lobby for professional licensure of speech-language pathologists. In all of my efforts, I maintain that people must be taught to advocate for themselves, and we must all learn to effectively communicate with each other.
Beck:
Kelli, you're delightful. Thanks for speaking with me today.
Talicska:
Thanks Dr. Beck. It was a pleasure to chat with you too!
-------------------------
Kelli is available to speak in your community, and would love to do so.
For more information on Miss Michigan,
CLICK HERE