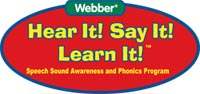 Linda Schreiber:
Thank you for agreeing to be interviewed about your work and your product
Hear It! Say It! Learn It!
Evelyn, Jenny, and Adele, you are all speech-language pathologists. What lead you all to write a product together?
Evelyn:
We respect each other's work! Adele was a professor of mine at Temple University where I received my doctorate. We began collaborating on a publication called
Beginning Reading through Speech
after I became a professor at La Salle University.
Jenny:
I met Adele when I became a faculty member at Temple University. I was familiar with other products that promote phonological awareness but was very taken by the simplicity and elegance of
Beginning Reading through Speech
. I began collaborating with Adele and Evelyn.
Linda:
It sounds like you share similar passions. Tell me about
Hear It! Say It! Learn It!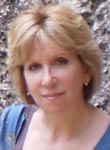 Evelyn:
Hear It! Say It! Learn It!
(HSL) is an interactive, research-based program that promotes awareness of speech sounds and their corresponding letters of the alphabet. It includes both training and assessment modules with fun games for children, and the program is response-to-intervention (RTI) ready! According to the National Early Literacy Panel (NELP), charged with summarizing scientific evidence on early literacy development, there are five categories of intervention that impact learning to read. HSL hits every category. For example, it is a code-focused program that includes shared-reading in which each letter and sound has its own story. Also, children enjoy working with the interactive CD and worksheets.
Linda:
What age range are the children who might benefit from HSL?
Jenny:
The product is for young children from the preschool age of about 3 years to elementary school children who have not yet acquired phonological awareness and beginning phonics. We have used it successfully with children in preschool up through 2nd grade.
Linda:
Hear It! Say It! Learn It!
uses a speech-based approach to help children develop phonemic awareness. What does that mean?
Adele:
We learned early in our careers that children who received intervention for articulation and phonological disorders were learning to read with ease. We believe that the speech-based approach helped accomplish this. A speech-based approach initiates phonemic awareness before establishing sound-letter correspondence. Sounds are first presented in isolation so that children attend to their production without being distracted by meaningful words.
Having been aware of methods of teaching reading, mainly in phonemic awareness for young children, I recall that there was widespread use of a specific technique for segmenting and blending. In the usual method of segmenting and blending, words were presented to children in their entirety, and children were required to break the words up into their component parts. However, it was reported by teachers that this was an unduly challenging task for many young children. To break a word up into its component parts did not take into account what was reported by speech scientists, which is the phenomenon of coarticulation. A word such as cat is normally perceived as a single burst of sound, and therefore it is difficult to perceive the individual sounds that comprise it. HSL starts instead with an individual speech sound in isolation and trains the child to perceive it and identify it. Letters are not introduced until speech sound discrimination and identification are secure.
Linda:
I see the subtitle of
Hear It! Say It! Learn It!
is
Speech Sound Awareness and Phonics Program
. How is phonics embedded then?
Jenny:
Essentially, phonics is mapping the sounds of speech to graphemes. Knowledge of letter-sound correspondence should come after initial training in phonemic awareness. HSL addresses phonemic awareness of 16 consonants sounds, and children learn to recognize those consonants in print after sound awareness is firmly established. By the end of each sound letter unit, children can discriminate sounds in isolation, in syllables, and in words&#59 and they can recognize letters in words and can write these letters.
Linda:
It sounds impressive and you mentioned that HSL is research-based. How so?
Evelyn:
In 2004, Adele and I conducted research that found that children who scored "below basic" on literacy measures in the beginning of the school year, improved in all areas of testing just six months later. They progressed up to "basic" and "proficient" levels of early reading.
Jenny:
Research is currently ongoing using HSL as a preliminary preschool adaptation in the eastern United States.
Linda:
How would you say HSL is different from others that are written on phonemic awareness?
Evelyn:
This program uses single speech-sound awareness in isolation prior to introducing any visual components or text. It also incorporates high-interest stories, features a game-oriented CD that children love to play, and works in incremental steps to ensure maximum success along the way. In each sound-letter unit, the selected sounds are made maximally contrastive with one another to highlight their distinctive features. After each set of four sounds is completed, children complete an assessment module so that acquisition of skills is continually monitored.
Jenny:
The combination of onomatopoeia and visual icons serve as anchors to help children remember speech sounds that are normally difficult to perceive because they are embedded in words. HSL is more concrete and accessible than other major products on the market. It targets the most frequently occurring consonants of English to initiate beginning reading. It is also teacher-friendly and doesn't require extensive training to be used appropriately.
Linda:
Why should speech-language pathologists be interested in this product?
Adele:
Consultation between classroom teachers and SLPs can be of great value and HSL promotes this.
Jenny:
SLPs have rigorous training in the spoken language foundations of reading, based in part, upon our expertise in phonetics and phonology. Language-based reading difficulties can be addressed by SLPs using HSL, which addresses critical oral language foundations for reading success.
Evelyn:
Speech-language pathologists working in response-to-intervention (RTI) frameworks can use HSL with all tiers of intervention. HSL can be used with a whole class for general support in learning and it can also be used in the higher tiers where direct speech-language services are warranted for children who need individualized support. Tracking progress on the CD and in the program manual is readily available.
Linda:
Are there other professionals who would find this product beneficial?
Jenny:
Teachers in preschool and early grades are well-equipped to use this program. Reading specialists, SLPs, and other support personnel can use it too. Parents can use HSL to monitor their children's progress at home using the CD.
Adele:
Teachers in the Norristown School District in Pennsylvania reported that, "The gains achieved from this approach were noteworthy!" This included teachers from regular education programs as well as reading specialists working with poor readers in an urban school setting.
Linda:
You mentioned
Hear It! Say It! Learn It!
has a software piece. What does the software do?
Evelyn:
The software supplements the original program. For each sound-letter unit, the CD has corresponding games that children can play to reinforce the skills they learned. Children want to keep playing and they enjoy seeing their progress on the screen. After completion of each sound-letter unit, children collect an animal to build a sound-letter zoo.
The CD has animated characters to help children learn. Jeannie Giraffe introduces sounds in isolation and Morris Monkey introduces sounds in syllables. Betty Bear gathers honey from beehives to help children learn to identify sounds in the initial position of words using pictures. Ella the Elephant helps children practice recognition and discrimination of target sounds in words with pictures and letters. Pamela Penguin uses pictures and embeds letters in the initial position of printed words for children to identify. Sophie the Seal asks children to identify sounds in printed words without accompanying pictures. At every level, each of the games corresponds to program activities in the manual. After 4 sound-letter units are completed, children have an opportunity to play Sound Sort and Sound Match games on the computer. The computer also provides another level of progress monitoring. Teachers can decide where to start and stop within the program for each student, thereby individualizing instruction and reinforcement. Classroom logs as well as individual student reports can be printed.
Linda:
Where can readers find out more information about
Hear It! Say It! Learn It
?
Evelyn:
Those interested in learning more about HSL can go to
www.superduperinc.com
and check out the demo CD.
We also encourage them to read two articles to learn more about the approach:
Gerber, A., & Klein, E.R. (2004). A speech-language approach to early reading success.
Teaching Exceptional Children, 36
(6), 8-14.
Klein, E., Gerber, A., & Roberts, J. (2006). A speech-language approach to beginning reading.
Perspectives on Language Learning and Education
, ASHA Division 1.
Linda:
Evelyn, Jenny, and Adele, thank you for writing this helpful product and thanks for taking the time to be interviewed about it.