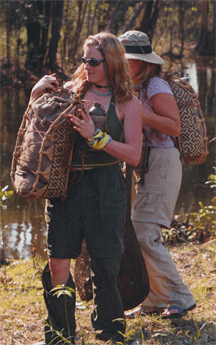 Beck:
Hi Christy. It is an honor to meet you! Thanks for sharing your time with me this morning.
Smith:
Hi Dr. Beck. Thanks for the invitation, it's nice to meet you too.
Beck:
Christy, I think many of the readers will know your name and face from the CBS Program
SURVIVOR 6: The Amazon
. Can you share your some of your reflections on that experience?
Smith:
Well, SURVIVOR was a once in a lifetime experience. I was treated just like everyone else, with no accommodations for my deafness, so in that respect -- it was very real, and it was very difficult! I learned a lot about myself in ways I handle challenges and limits through SURVIVOR, and I am grateful to have had that opportunity.
While working on Survivor, I realized the world needs to become aware of deafness and the issues that come with it. And though Survivor has left a lasting impression on me, I felt isolated throughout the whole time I was in the Amazon. I felt excluded because I didn't know how to share my needs with my fellow castaways nor did they know how to work with me. I missed out on developing relationships because communication was not accessible and there was a general lack of understanding.
Beck:
Christy, would you please tell me a little about your history as far as your hearing loss and your education?
Smith:
I was born three months premature, some 26 years ago. I grew up in the mountains of Aspen, Colorado. I was identified as deaf at about 6 months old. I was the only deaf person in the family, and actually, I was the only deaf person in the area and I was mainstreamed into the public schools. My parents had me wearing hearing aids very early, as there were no other options at that time. They had me working with aural rehabilitation to learn about speech sounds and speech production too. The reason "I speak so well" is I chose to have a good attitude and motivate myself toward my goals. I sometimes got picked on because of my speech but that only made me work harder. My mom wanted me to have every possible advantage -- and because of her fighting for what I needed, I became quite proficient at reading lips and with my speech skills. I wear a hearing aid in various situations, they are sort of like having glasses - I keep it close to me and use it when I need it.
Beck:
I wonder...Do you think of yourself as hearing impaired or deaf?
Smith:
I don't like the term "hearing impaired" as it reminds me of the sound of scratches on the chalk board. I don't consider myself impaired in any shape or form. I would rather use the term "hard of hearing," although I consider myself a deaf person. I can communicate and get by very well, because I have the attitude and drive to fit in the mainstream community. Discovering the deaf world -- and its culture -- has helped me find my true identity and I was able to become proud of who I am. Regardless, being deaf is only a small part of who I am.
Beck:
Please tell me your thoughts about cochlear implants?
Smith:
I think having a cochlear implant is a very, very personal decision. There are many different protocols and equipment available to help people with hearing loss, and I recommend researching any and all possibilities.
Beck:
Christy, I know you attended a deaf high school and earned your college degree from Gallaudet University in Criminology and Sociology. When did you graduate, and what did you do after graduation?
Smith:
I graduated with my bachelor's degree in 2000. After graduating, I took a few odd jobs here and there to get some experience and I wound up back in Colorado at the Aspen Camp School for the Deaf. While I was there, my dad downloaded the application for
SURVIVOR
. I filled out the application, all the while doubting my ability to be on the show because I was deaf. When they picked me, they told me it was partially because they felt I could handle this kind of experience without an interpreter. After that wonderful, but difficult, experience, I remember speaking with some people and mentioning that I would love to produce a children's TV show to help spread deaf awareness.
Beck:
So at this time, your primary focus is your television show for children?
Smith:
Yes, that's right. I am creating a television series for children's titled "Christy's Kids: Challenge Yourself!" It is being produced with the intention of reaching a national audience. But importantly, it's for both deaf and hearing children. Our main focus is to teach sign language and recognize many ways children can interact and encourage any kind of communication as well as facial expression, gestures and body language.
Beck:
And you've already made some significant progress. You've had a pilot version of the show which was seen in Colorado on the PBS station?
Smith:
Yes, we did. The first show aired December 26, 2004. There were four kids and myself, it is a 30 minute pilot. Essentially it takes place outdoors and we use the situations and the scenery to help teach sign language. Each of the children come from different backgrounds. The main focus of the show was how to communicate with each other, despite language barriers. We have a few goals that we'd like to facilitate throughout the show and that is to promote deaf awareness nationally, create a positive platform from which people can learn sign language, and to help bridge the gap between hearing and deaf people.
Beck:
Those are laudable goals! I'll bet the kids learn a whole lot faster than adults!
Smith:
Yes, they really do. Kids are open to learning new things and will learn if it is there for them to learn.
Beck:
Christy, I'd like to mention that you have a website
www.christyskids.tv
and also
www.amazinchristy.com
so the readers can visit those sites and get more information about you and the show there.
Smith:
Yes, that's great! Thank you for mentioning that!
Beck:
Thanks Christy. I appreciate your time and wish you luck with the new show. I hope we can follow-up with you in a few months to check on your progress.
Smith:
That would be great, Doug. I'll look forward to seeing you this summer or fall!
---------------------
For more information, please visit:
www.christyskids.tv
and
www.amazinchristy.com