Signature HealthCARE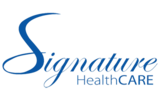 Signature HealthCARE
Welcome to Signature HealthCARE…where care is redefined!
Signature HealthCARE is a comprehensive health care resource for patients, families and professionals alike. We know that when it comes to choosing health care services…only the best will do! When faced with health care choices, decisions, questions and uncertainty, we want to be your choice for assistance when navigating the health care maze…we will be with you every step of the way. At Signature HealthCARE, we listen and then take the best of our services, commitment and experiences to provide the health care services that are right for you or your loved one!
There are things you can always count on…Signature HealthCARE and its team of professionals is committed to being Your health care partner…always "doing the right thing"…and striving to earn Your valued trust and confidence every day!
Resources
Mistakes in Managing Employee Recognition Programs
Here are some mistakes that managers sometimes make which can cause otherwise promising employees to look for greener pastures.
July 26, 2011
When leaving a job, whether it's by your choice or by your employer's choice, it is very important to keep your emotions in check.
June 6, 2011
Be true to yourself when looking for a job.
Do you live to work, or do you work to live? It's an important question to answer.
March 29, 2011
Job Hunting 101 - What to Expect
New grads in speech-language pathology and audiology have skills and knowledge that are increasingly...
March 1, 2011
Career Center
Contact Information
Signature HealthCARE
12201 Bluegrass Parkway
Louisville, KY 40299
US
Phone: 502-568-7800
See Job Listings