Meet the experts
Our Team
The robust SpeechPathology.com course library is developed and overseen by an experienced team of speech-language pathologists and industry professionals.

Stacy L. Williams
PhD, CCC-SLP, CHSE
Chief Operating Officer

Amy Hansen
MA, CCC-SLP
Senior Managing Editor

Amy Natho
MS, CCC-SLP
Senior CEU Administrator/Associate Editor

Ann Kummer
PhD, CCC-SLP
Contributing Editor

Kathleen Poliski
Instructional Technology Coordinator
---
Featured Presenters
SpeechPathology.com instructors and guest editors are skilled clinicians and industry leaders whose courses consistently receive top ratings from our members.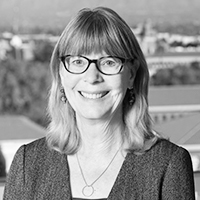 Cass Faux, MS, CCC-SLP is a Clinical Associate Professor and the Coordinator of Clinical Education in Speech-Language Pathology at the University of Arizona. Cass has treated children and adults with motor speech disorders requiring augmentative and alternative communication for over 30 years.
Judy K. Montgomery is Professor in the Communication Sciences and Disorders Dept. at Chapman University, Irvine, CA. She is also Executive Director of the Scottish Rite Childhood Language Center in Santa Ana. Dr. and has worked for 23 years as an SLP in three school districts in Southern CA.
In addition, Dr. Montgomery is a Board Certified Specialist in Child Language and Language Disorders and Secretary of the National ABCLLD Board and Editor-in-Chief of Communication Disorders Quarterly. She has received the Annie and John Glenn Award for Outstanding Leadership in School-Based SLP Services, plus Honors of CSHA and ASHA.
She is the former president of several state and national professional organizations: US Society for Augmentative and Alternative Communication (USSAAC), Division of Communication Disorders & Deafness (DCDD), California Speech Language Hearing Association (CSHA) and the American Speech Language Hearing Association (ASHA).
Dr. Montgomery recently served on the ASHA Committee on Honors and the Ad Hoc Committee to design the 2016 ASHA Scope of Practice. She has authored 12 books, numerous articles, and one standardized test of vocabulary development.
Gemma White BSc (Hons.) CCC-SLP is a New York State and UK licensed Speech Language Pathologist, with affiliation to the American Speech and Hearing Association (ASHA) where she serves on the AAC Special Interest Group 12: Professional Development Committee, Royal College of Speech Language Therapists (RCSLT) in the UK and the National Association of Neonatal Therapists (NANT). Gemma White began working with children with autism in an integrated youth program following the TEACH model 20 years ago. She trained as a speech language pathologist at University College London with her dissertation focusing on visual processing skills of children with autism and dyslexia. Since moving to America 11 years ago she worked at The McCarton Center for Children with Developmental Disabilities and is currently in private practice in New York. Gemma has presented for Apple on Applications of the iPad for children with ASD and most recently at ATIA on the same topic.
---
Advisory Board
All SpeechPathology.com content is vetted by a distinguished Advisory Board that provides topic-specific content and curriculum development.
View Advisory Board