Sunbelt Staffing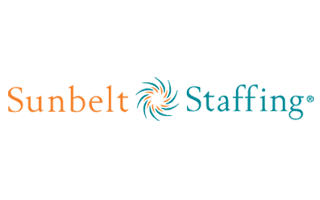 See Sunbelt Staffing Job Listings
Contact Information
Sunbelt Staffing
3687 Tampa Rd
Ste 200
Oldsmar, FL 34677
US
Phone: 800.659.1522
Website:
sunbeltstaffing.com
---
Sunbelt Staffing
Sunbelt Staffing, where you shine.

Do you want to visit exciting places, try out new career settings, and make new friends-all while receiving great pay and benefits? You can, with Sunbelt Staffing! We offer long-term, short-term, and permanent placement job opportunities in destinations throughout the United States from small peaceful towns to big cities that never sleep. At Sunbelt Staffing, you'll find everything that makes being a Speech Language Pathologist so appealing. At Sunbelt, rewarding job opportunities, exciting locations, and great perks come together to make your career a true pleasure.
Sunbelt Staffing, is comprised of dedicated professionals whose only mission is to make your experience with us a fantastic success! Sunbelt is the way to a happy career and a happy life with more than you would ever expect. Being a part of the Sunbelt team means you'll enjoy the benefits of working with caring professionals who are not only well respected and well connected throughout the industry, but also dedicated to making your priorities theirs.
Throughout the past 20 years, we have forged relationships with thousands of school districts, hospitals, and skilled nursing facilities nationwide to provide contracted speech- language pathology services. We are committed to not only providing our clients with the highest caliber of healthcare professionals, but also to ensuring your experience with Sunbelt Staffing and the facilities we represent is second to none.
Benefits to You
Personalized service - With Sunbelt Staffing, you are never a number. We provide you with a dedicated and hard working recruiter who will have your best interests at heart. Your recruiter will work diligently to find you the right speech-language pathology job opportunity in the settings and locations that you desire. In addition, you will get a smooth, streamlined transition-from setting up the interview to coordinating your benefits. Plus, we offer 24/7 support in the field. Sunbelt not only has a 24-hour answering service but we provide all our healthcare professionals with their recruiter's cell phone number. They can be reached at anytime, day or night to help solve any emergency problems or to answer any questions you might have. What this means to you is a dedicated professional out there campaigning for you to provide access to all of the most sought after traveling opportunities in the most influential school districts. Because we are dedicated to working for you, we are constantly providing updates as to the status of your career search. Lastly, each of our recruiters has the honesty and integrity necessary to be your #1 advocate.
Higher Standards
Sunbelt Staffing has been awarded the Gold Seal of Approval for Healthcare Staffing Services by the Joint Commission on Accreditation of Healthcare Organizations (JCAHO), assuring you that our processes and standards are second to none. This means that we don't take shortcuts and we are committed to your individual success.
More Resources

Sunbelt Staffing has a vast network of resources to draw from ranging from established relationships with Directors within school districts, outpatient clinics, and hospitals to internet websites such as this, we can provide you with more travel opportunities, more school settings, and more locations nationwide! Whether your interest lies working in hospitals, schools, outpatient clinics, non-profit healthcare facilities, or skilled nursing centers, you can tell us what you want and we'll find the assignment matching your preferences.
---
Testimonials

"I regard Sunbelt Staffing as one of the 'top-notch' companies. I never hesitate to call, knowing that I will receive a prompt, courteous reply. These are hectic times for staffing a hospital and I appreciate Sunbelt's expertise. It is nice to give our business to Sunbelt and to recommend them to others."
- Mary, Staffing Coordinator
- - - - - - - - - - - - - - - - -
"I appreciate all that Sunbelt does for their employees. Most of all, I am impressed with the level of respect and teamwork that is put in practice. I sense that your company is truly trying to reach out to therapists to give them a sense of belonging and being part of a team."
-Patricia, OTR/L
---
Read More
Resources
25 Amazing Companies Hiring in All 50 States
Sunbelt Staffing Named by Glassdoor as one of the 25 Amazing Companies Hiring in All 50 States.
June 21, 2018
25 Companies That Are Hiring In All 50 States
Sunbelt Staffing named by Forbes as one of 25 Companies That Are Hiring In All 50 States.
June 21, 2018
Continuing Education: Good for You and Good for Your Career
While some may lament the continuous need to acquire CEUs and the cost associated with that, most SLPs acknowledge the fundamental value of continuing professional education because of its obvious value to patients.
August 15, 2011
How to Get Your Resume Noticed
Is there something wrong with your resume? It may be time to rethink, even rewrite, your resume. Giving it a fresh look may help you get results.
July 5, 2011
The Benefits Package: What's it Worth?
Knowing this value may help you decide whether to accept a job, negotiate for a higher salary, or stay where you currently work.
May 22, 2011
Show Interviewers that You are a Credible Professional
At interviews, the employer wants to see that you are a credible professional, that you will be a credit to the company or clinic, and that you will foster trust and respect from co-workers and clients alike. So what does professional credibility encompass? In addition to your actual professional credentials and attitude, it encompasses your appearance, your body language and your use of language.
April 20, 2011
Social Networking: A new tool for job seekers
Recruiters and employers are searching social networking media for info about you too, and they're using the sites to recruit and to post jobs. So, what's the best way for job hunters to use social media to find that dream job?
March 21, 2011
Career Center