Staffing Options and Solutions, Inc. (SOS)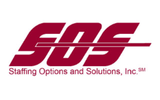 Staffing Options and Solutions, Inc. (SOS)
SOS, the direction of your success...
Staffing Options and Solutions, Inc. (SOS) is a therapist owned and managed company dedicated to bringing together therapy professionals with job opportunities in school and health care settings. As professional therapists and business owners, SOS offers you an unparalleled level of expertise and understanding of the opportunities available in health care today. We fully understand our school and medical facility clients' needs for quality therapy staff in both contract and employee positions and our therapists know we provide a superior work environment and a fulfilling career path for both new graduate and experienced therapy professionals.
SOS holds ongoing school contracts offering local jobs as well as travel and relocation positions, and provides short-term, temporary or travel opportunities in school, hospital, clinic, nursing home and other therapy environments.
Our current contract services and temporary staffing states are: Arizona, California, Florida, Georgia, Illinois, Indiana, Maryland, New Jersey, North Carolina, Ohio, Texas and Virginia.
Contact Information
Staffing Options and Solutions, Inc. (SOS)
6249 S. East Street
Suite E
Indianapolis, IN 46227
us
Phone: 800-554-7823 x103
Fax: 317-791-2457
See Job Listings
---
Staffing Options and Solutions, Inc. focuses on your unique needs and employment preferences within the special education, therapy and rehabilitation profession.
SOS employs:
School Psychologists
Speech Language Pathologists (CCC-SLP and CF-SLP)
Occupational Therapists (OT), Occupational Therapy Assistants (COTA)
Physical Therapists (PT), Physical Therapy Assistants (PTA)
Audiologists (Aud and AuD)