SLP School Staffing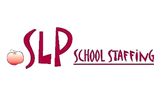 SLP School Staffing
<p>Full-service staffing company dedicated to the recruiting of speech language pathologists into school-based jobs nationwide.</p>
SLP School Staffing is a full-service staffing company dedicated to the recruiting of speech language pathologists into school-based jobs nationwide. We understand how difficult it can be to find what you consider the "right job" or the "most qualified candidate." That is why we make sure that our recruiting specialists are equipped to provide you with professional advice, direction, and opportunities through a personal relationship that you can trust. Whether you are a school system looking for an SLP or an SLP looking for a job, SLP School Staffing can help you find exactly what you need.
Resources
Continuing Education: Good for You and Good for Your Career
While some may lament the continuous need to acquire CEUs and the cost associated with that, most SLPs acknowledge the fundamental value of continuing professional education because of its obvious value to patients.
August 15, 2011
If you've been catching yourself perusing the job boards lately, it's essential for you to identify which aspects of your current job are unacceptable.
June 13, 2011
Career Center
Contact Information
SLP School Staffing
US
Phone: 770-823-0890
Fax: 770-887-1266
See Job Listings